TCAT

Chapter: The Mountains

Current Route Filename: Mount01

Created By: Ross Glover

Length: Approximately 3500 kilometers

Unless otherwise stated all photos are by Ross Glover


Region 6 – The Chilcotin
The Chilcotin Region has been called "B.C.'s Last Frontier" due to its wild, open and often spectacular landscape. Few people live on the 50, 000 square kilometre Chilcotin Plateau but it is home to the largest population of bighorn sheep in Canada. The route travels south from Quesnel along the Fraser River on the West Fraser and Meldrum Creek roads to Highway 20 at Riske Creek. Just a little south of Riske Creek, you enter into the incredible Farwell Canyon with its sandstone Hoodoos, ancient pictographs, sand dunes and the colourful Chilcotin River.

Farwell Canyon

Just past Farwell Canyon is an in and out section into the Nemaiah Valley. The route uses the same road in and out with an incredibly scenic loop at its end.

Heading into the Nemaiah Valley



Above and below: Roads on the scenic loop




This section should take about one day to travel and can be difficult in wet weather. The Nemaiah Valley is the home of the Xeni Gwet'in Band of the Tsihqot'in people. The natural beauty of this area with the always visible snow capped coastal mountains and the many lakes will make this part of the route unforgettable.

Chilko Lake

You might even be one of the lucky few to see some of the 200 wild horses that roam free in the area.
Returning to the junction after the Nemaiah Valley loop, the route continues its way south to the Gang Ranch. Founded in 1863 it is the second largest ranch in Canada.
Once past the ranch, you cross the Fraser River on the Royal Engineers' Bridge and then recross the river again on the Big Bar Reaction Ferry.

Royal Engineers Bridge



Reaction ferry across the Fraser River

After the crossing, the route goes up a steep, sandy, challenging set of switchbacks.

Long, sandy climb up after the ferry

The remaining 90 km of the road into the town of Lillooet is less technical but just as scenic.

Looking back after the climb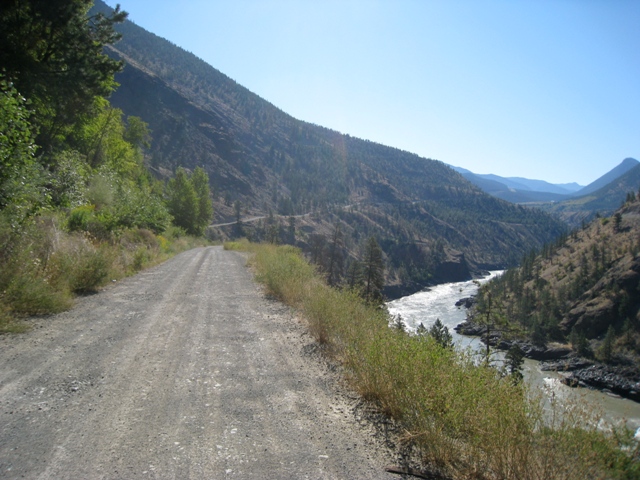 Following the Fraser River to Lillooet

Lillooet has a population of about 2300 and is known for its high summer temperatures and low rainfall. It is considered to be one of the oldest continuously inhabited locations on the continent. All services are available including a museum, visitors centre and campground.
After Lillooet the route turns west to head into the last remote section. At this point an optional technical loop branches off and travels up into the Poison Mountain area. This loop is difficult in wet conditions because of some steep and rutted sections. After the loop, the route crosses Carpenter Lake over a dam and travels high along Anderson Lake and continues to the town of Pemberton.

Carpenter Lake



Road along Anderson Lake



Another view of Anderson Lake

Pemberton, an upscale but slightly rustic appearing town, has a population of about 2600. All services are available with camping at the nearby Nairn Falls Provincial Park.


Useful Links

History of Gang Ranch LINK

History of Royal Engineers Bridge LINK

Big Bar ferry info LINK

Town of Lillooet website LINK

Town of Pemberton LINK

Nairn Falls Provincial Park LINK


NEXT PAGE

Previous Page

TCAT Homepage