TCAT - The Forest Continued
Distance: 421 kilometers

Duration: One long day or two days, 2 days if you do the tech sections

Two Optional Tech Sections
North Bay to Timmins
Leaving North Bay the route quickly gets onto an old rail line that travels for about 100 km of the TCAT. A few old rail trestle bridges need to be crossed; one in particular may give some fright to those who are afraid of heights. Travelling this trail offers some fantastic scenery; the terrain is straight forward for the most part.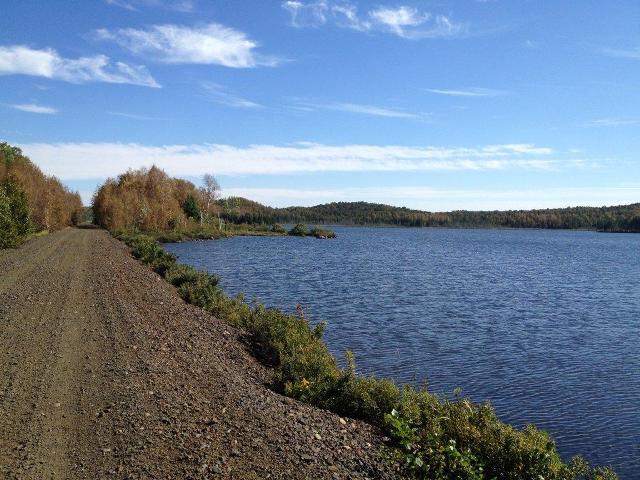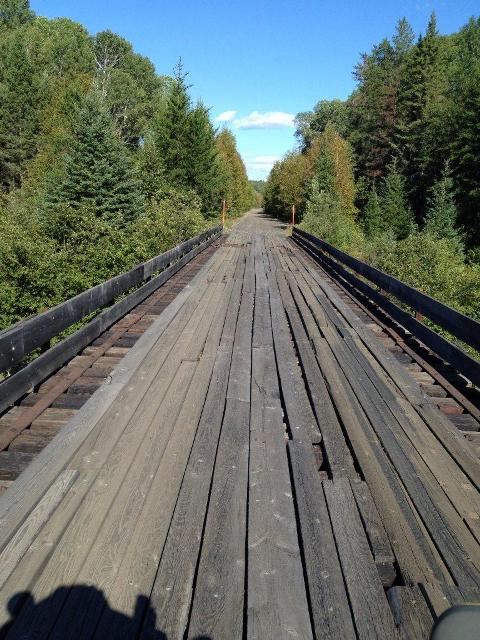 The TCAT travels by the city of Sudbury (must do fuel stop) before travelling a -+ 150 kilometres on the Portelance Road. A great twisty road that follows a river for much of its way. Halfway along this road is a short technical optional section ( 04 ON 09 TechAlt ) LINK

This road dumps you onto highway 560 where you take a right and follow the road for 15 km's to the Grassy Road. In this 15 km are a few attractions.

Above and below: Portelance Road
A washout on the Portelance Road

The first is a small native settlement called Shining Tree http://www.shiningtree.com/ The next common stop for folks is a great little pub called the Bears Den, fantastic food and cold beer. The taxidermy on the walls and colourful locals make a stop something memorable. Please note the Bears Den is now closed down, we are unsure if at this time if it will reopen or not.  After eating there is a gas stop at a small outfitters called Spruce Shilling Camp. From here you have two options. A tech section begins ( 04 ON 10 TechAlt ) LINK .

The native settlement of Shining Tree
Fuel at the Spruce Shilings Camp

Above and below: The Bears Den, a great stop along the route (Note: The bears Den is currently closed, still trying to find out if it will open again)
The main route follows Grassy Road, a fun rollercoaster road for the first half. After approximately 890 kilometres of this gravel road the route takes you to a small lodge called Post 393. It's a bed and breakfast and must do stop, ensure you have made reservations far in advance as they are often sold out due to their cuisine which has a great reputation. The food alone is worth the stop, the warm lake to swim in along with the cosy accommodations aren't to shabby either. Call 705-266-1506

Above and below: Grassy Road
The next four photos are from the Pole 389 Lodge, a perfect location to take a break for a day and enjoy the hospitality 
The route then travels through the small city of Timmins where most amenities can be found. If you get stuck or need more info about the area there is a dual sport forum you can utilize http://gpsadventuretouring.proboards.com/index.cgi The fellow who runs it is a great guy and along with most of the folks on the forum are glad to help.